Vintage apartment in the patrician district of Belgrano. The redone floors in Slovenian oak and the walls covered with panels of Paris stone contrast with the contemporary equipment. Antique pieces were incorporated as part of the history of the place, as if they had always been there. The apartment's inherent charm has prevailed above any other concept and the task could not have been any other than to return it to its roots. Striking details that combine modernity with tradition are the distinguishing features of the interior design.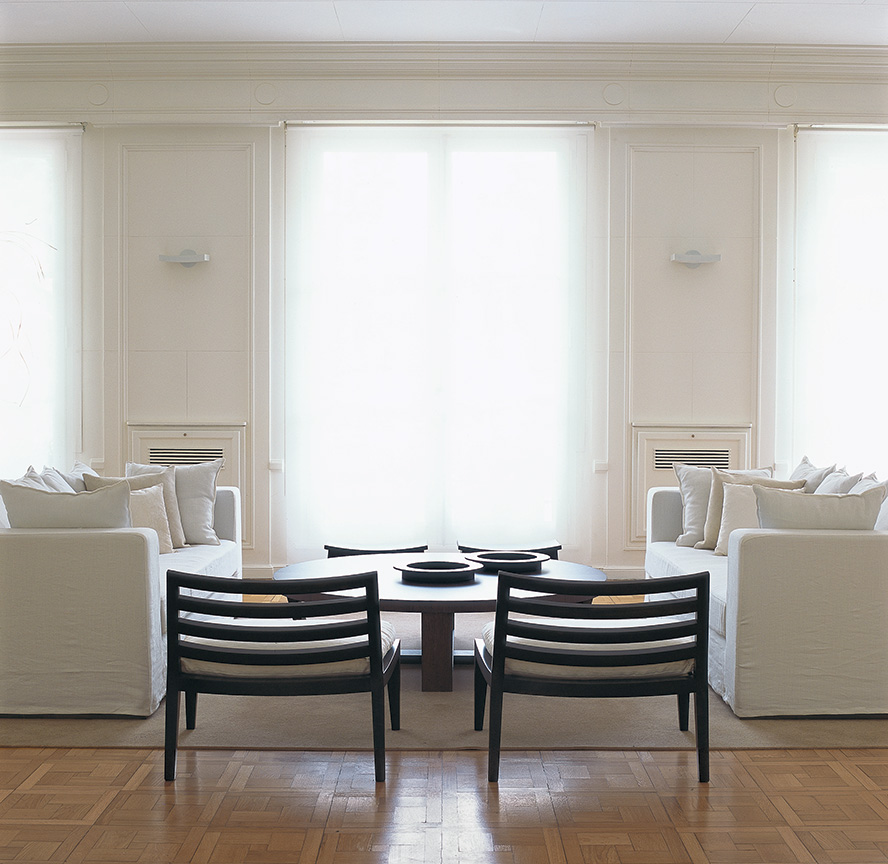 The round table with cross-shaped base, in brushed brown oak, coexists with the Louis XVI chairs from Maison Jansen. A Bohemian glass pendant is reflected in the mirror above the fireplace, as well as a bronze sculpture by Antonio Pujía. The ceramic vases have been designed by Tiziana Menozzi. Absolute dazzling white, is everywhere in this elegant apartment.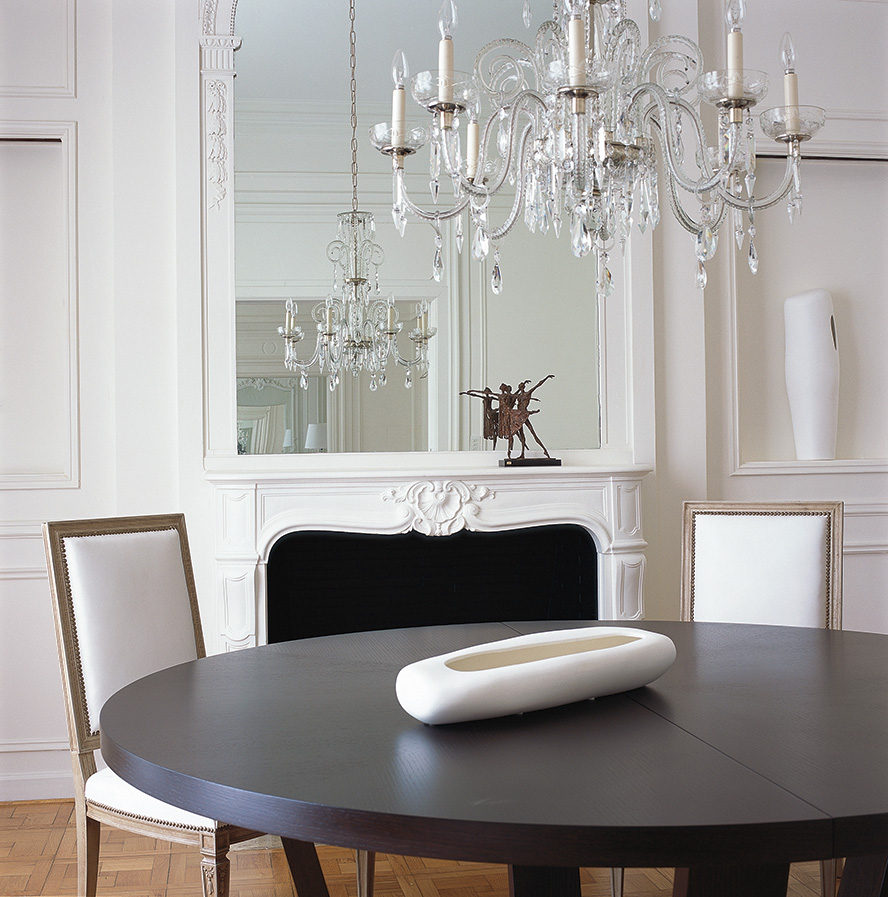 On the console behind the sofa, upholstered in linen with accessory cushions in linen, fur and chiffon, lies a vase-candelabrum designed by Borek Sipek with a flower arrangement of lilies. The items upholstered with linen covers change their color according to the season, providing the interior design with exquisite flexibility. The house is entirely white in spring and summer, changing to mink during autumn and winter. The accessory cushions and throws are in linen, silk, fur and chiffon.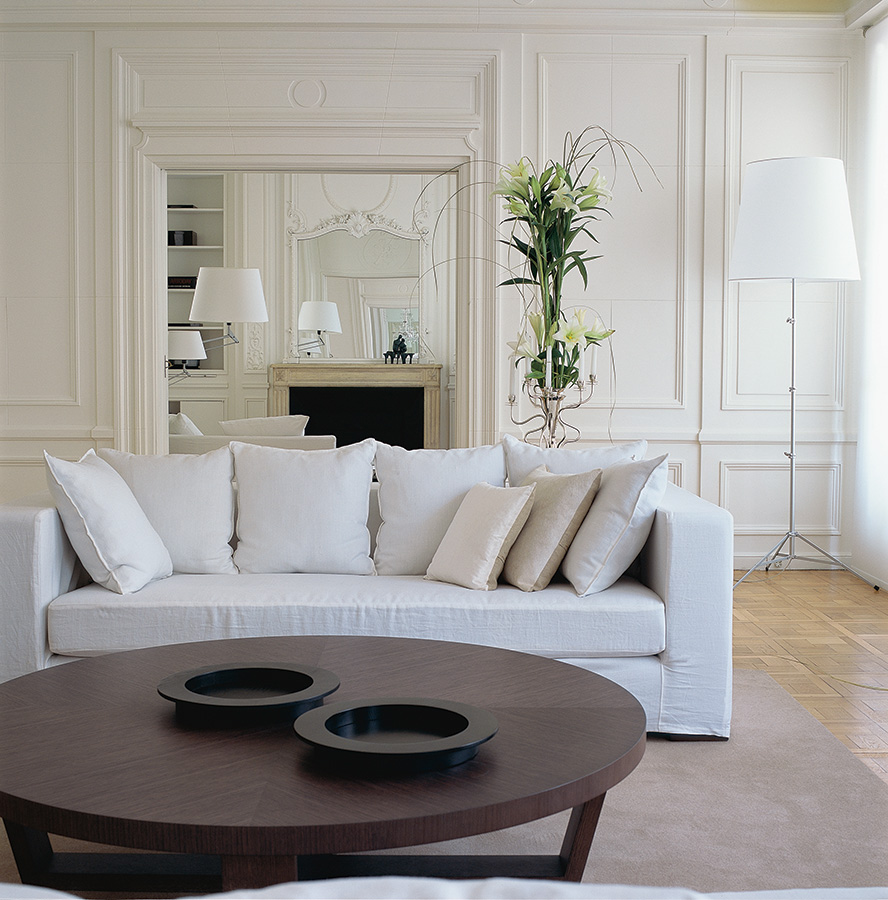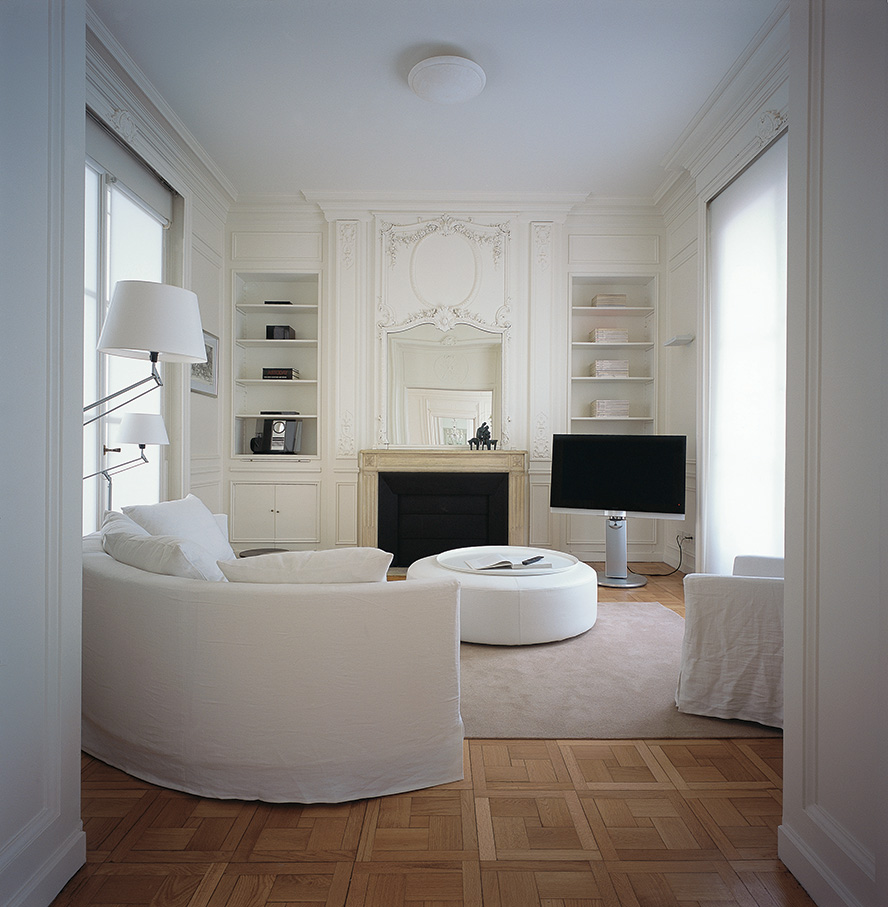 The semicircular curved form adds a special touch to this sofa in linen, acting as an invitation to relax and enjoy the Bang & Olufsen home theater. On the natural llama wool rug there is a leather ottoman with a circular tray, designed by Patricia Urquiola for B&B. The lightness of modern equipment matched with classic comfort.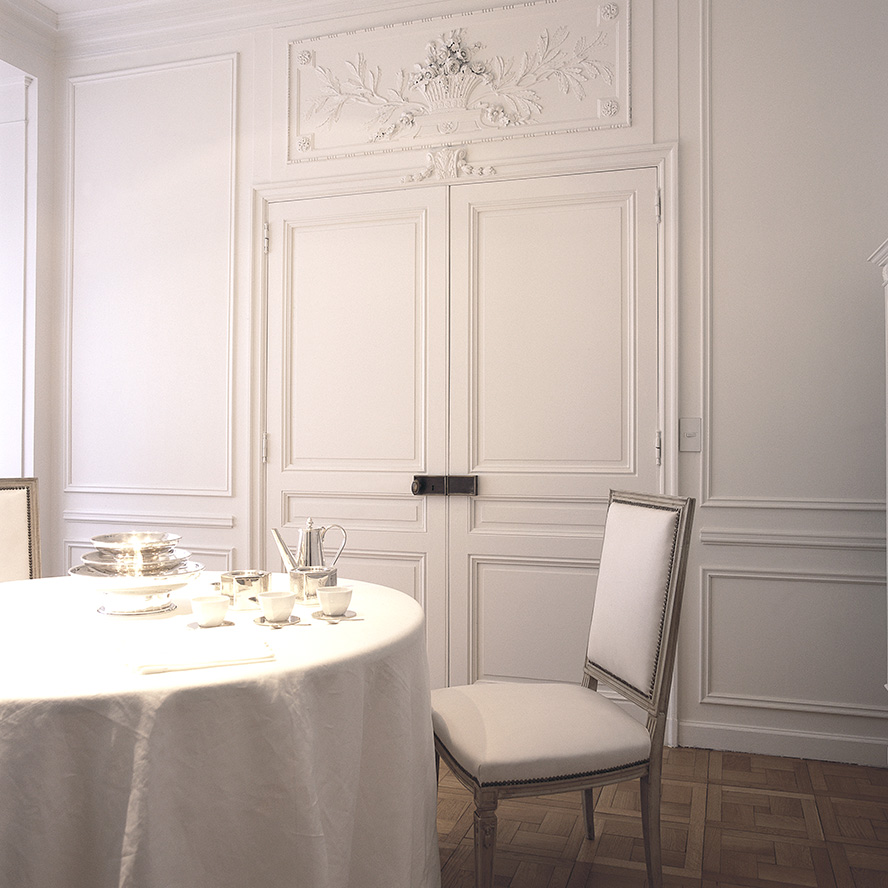 In the breakfast room there is a table covered with a Belgian linen tablecloth and Louis XVI chairs from Maison Jansen. On the table rest Sandrine Ganem china cups, a tea set and silver trays from Marie Claude Benard. The design likewise proposes elegant solutions with the complementary pieces and a main focus on neutral environments that can provide detachment from the outside world.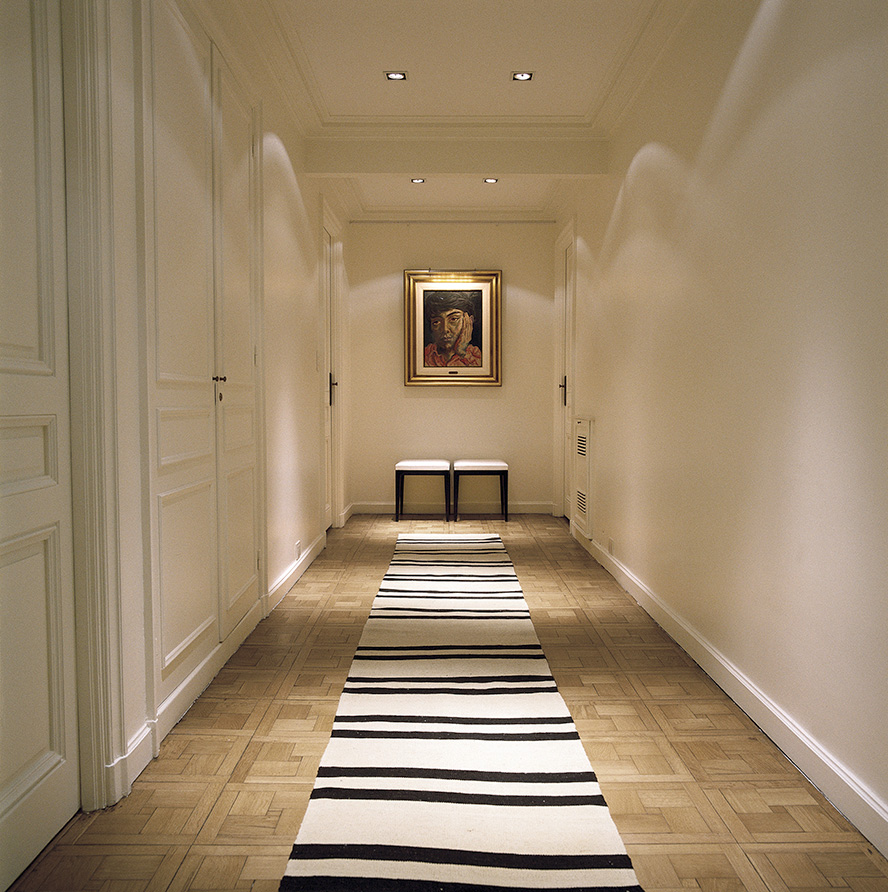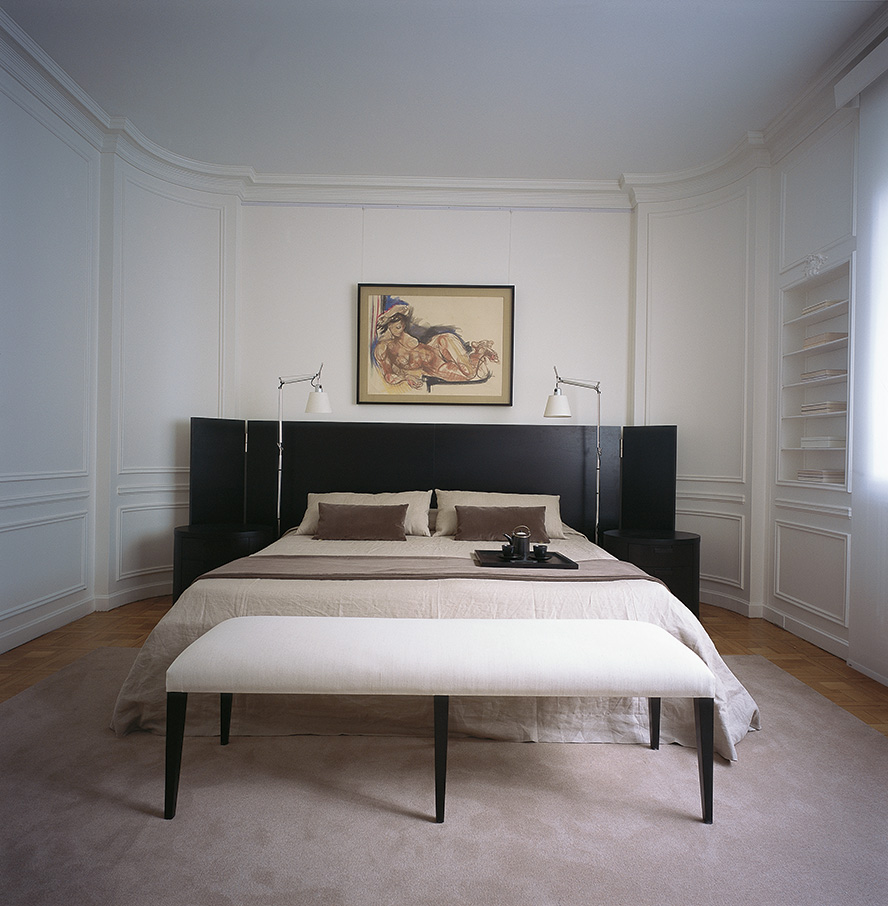 In the master bedroom, a screen in brown oak serves as headboard and two oval-shaped complete the equipment. At the foot of the bed, there is a Charlotte bench from Modenature. A linen bedspread with accessory cushions and a velvet blanket. Tolomeo Lettura lamps with parchment shades from Artemide. There is a work by Carlos Castagnino on the wall. On the polished wood tray from Ex-Boto rest a teapot and cups from Mariage Freres. The carpet is made of natural llama wool. Translucent roller shades filter the light coming into this space. From the bedroom to the living-room, from the dining area to the home theatre, the interior design reinterprets the past with great personality.