W APARTMENT PALERMO
Contemporary premium Italian design, in this single space, resulting from the union of three reception rooms. This reinforces the immediate impression of spatial generosity in the social aereas. The focus of the interior scheme falls on, an innovative layouts which organizes the reception as a series of fluid gathering spaces. A key challenge for the interior architecture was to harmonize the functional needs with the potential for a rare quality of expansiveness.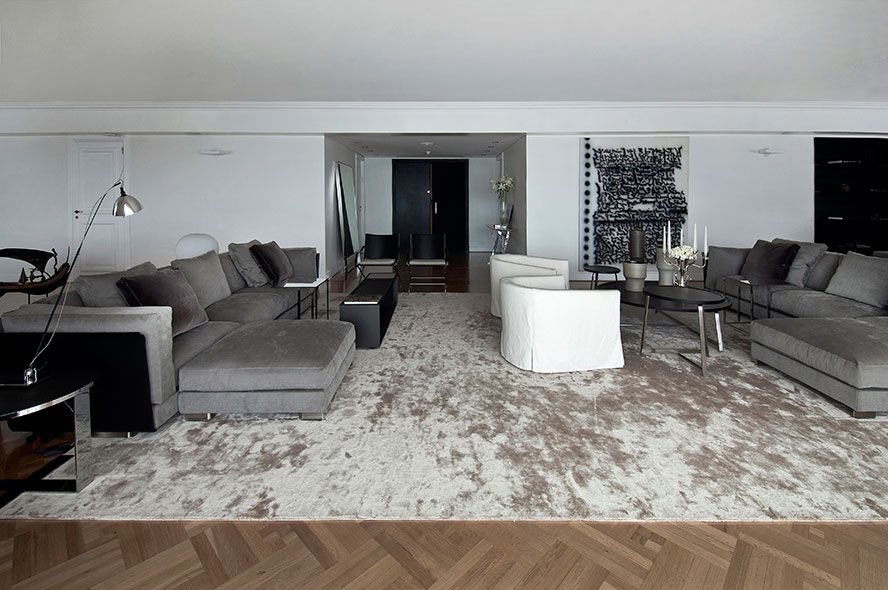 Against the background of the painting "Matzot," by Daniel Scheimberg, we appreciate the peonies-crowned candelabrum designed by Borek Sipek, next to two ceramic vases from Rina Menardi that rest on a table of steel and black-tinted oak. These are exclusive pieces that make a statement in the overall interior.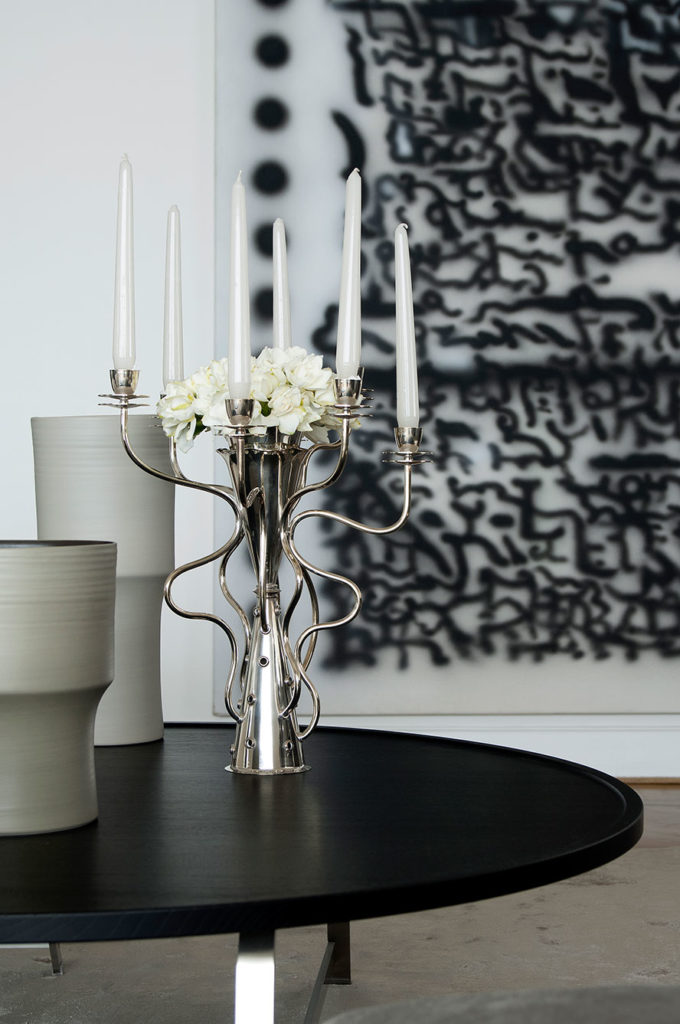 In this tranquil setting on the handmade Tibetan silk rug, two generously-sized Flexform Happy chaise-longues and several small, elegant, multipurpose Maxalto Elios tables, with glossy steel tops, achieve the maximum comfort. In this space, the sculptures "Aqua Regia Warrior" by Hernán Dompé and "Riverside Series" by Bastón Díaz stand out, together with three fiberglass water bottles from Herbe Gambs. The screens provide privacy while not entirely blocking the view.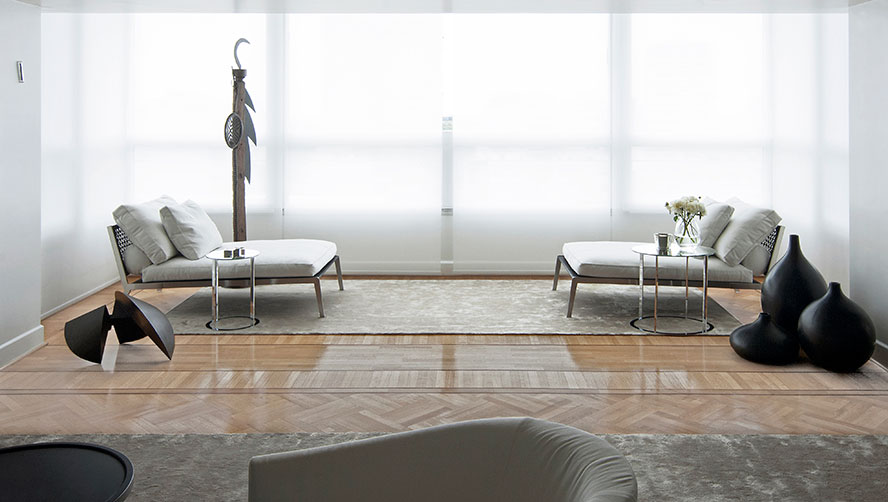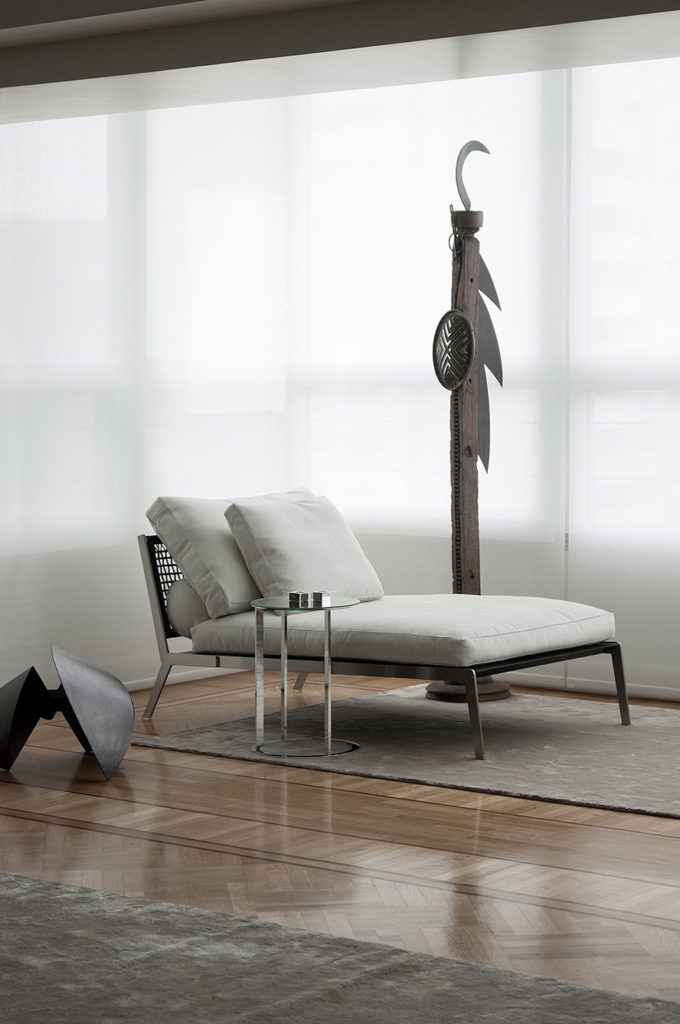 Generous private quarters, incorporating bedroom, dressing and double bathroom. Selene bed and Filemone bench upholstered in linen, accompanied by two Amphora Ebe bedside tables from the Apta collection by Maxalto. In a corner of the bedroom, two JJ rocking armchairs in pony skin, wood and steel from B&B, and a Jiff side table in a dark oak polish from Flexform. Over the headboard there are two Tolomeo Sospensione bedside lamps with silk shades from Artemide. The bed is dressed with Egyptian cotton sheets and pillowcases with Swiss organdy details. A lovely detail is provided by velvet blanket accessory cushions. An LSA glass vase with an arrangement of peonies and a water bottle and glass in silver and crystal, from Armani Casa, enhance the beauty of the space.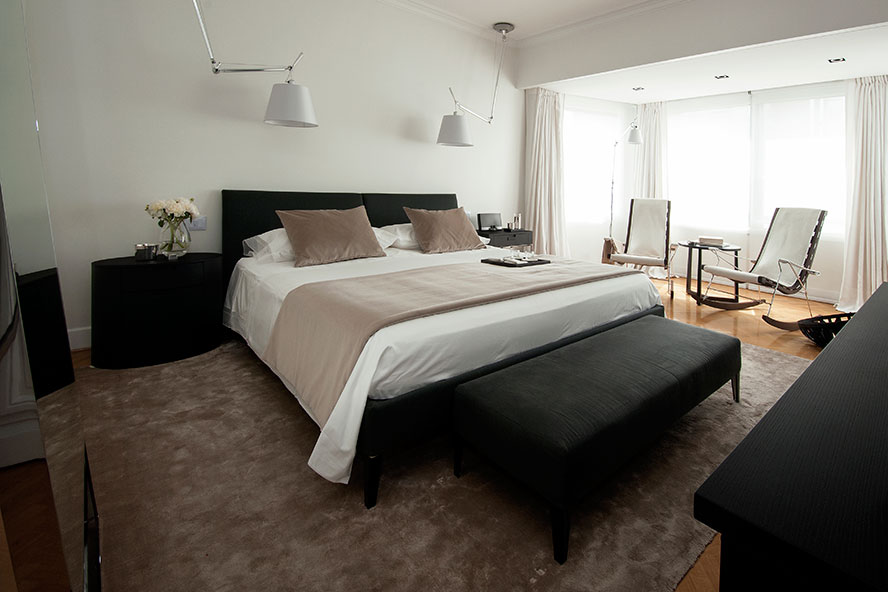 Daniela Mac Adden Photography